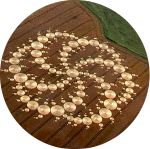 Disney is making a movie about them, and most people think they are as real as Goofy: CropCircles have been documented since the 9th century. In early times attributed to be the work of the devil, modern explanations have ranged from miniatures tornadoes to the workings of aliens. One of the most incredible cropcircle formations of all time was seen on 13 August 2001 in Wiltshire in England, comprising about 500 circles.
---

In connection with the crop circles I would like to draw attention to the growing problem of starvation in many parts of the world. Please help by visiting The Hungersite.

Symbolically I have picked two hands of wheat from the centre of the crop circles in Wiltshire. If you send me a confirmation from any accredited aid organization targetting world hunger that you've made a contribution towards it in excess of $100, then I will send you an oar of wheat grain, including a certificate of its authenticity. The contribution must be dated after 1. September 2001. I will not make money from this, since I will pay for packaging and shipping.